Vanessa Monique is the MercurySilver, Silver Bikini Ranger of the Bikini Rangers: The Original Series.
Biglogy
Vanessa Monique was born and raised in Oxnard. She's of Mexican, Japanese, Hawaiian and Irish descent. Vanessa started modeling when she was 17, and at 20, has been doing this for a few years. "I love modeling," she elaborates. "I'm very family oriented; they support and stand behind me 110-percent, which is nice to have that motivation from the people that you love." As for hobbies, she just picked up sewing, which is her new thing, and she's been sewing up some hot outfits! "I also like talking on the phone, meeting new people, dancing, cooking, baking and also watching UFC fights, boxing matches, Laker games and going out to car shows," she relates. "I love my music so concerts and hip-hop shows are a big yes for me!"Vanessa has a vast love for cars, but if she had to narrow it down to one it would have to be an '80 Cadillac Coupe De Ville. Where food is concerned, she says, "I'm like a garbage disposal. I love all types of food--Japanese, Mexican, Hawaiian, Italian, Chinese, Filipino. My favorite restaurant is Koji's Shabu Shabu. I love that place." Japan, Hawaii, Spain, Italy, France and Australia are all highlight on her map for places to travel.As far as guys are concerned, "The first thing that I notice in a guy would have to be his smile," admits Vanessa. "You can win me over with a sexy smile! I love a guy who can be outgoing and funny. I like a guy who has nice style, and he's gotta smell yummy yummy! Most importantly, I like a guy who can be honest, faithful and treats me with respect. He needs to hold me down through good and bad, and stand by me 100-percent." We're sure that there are more than a few readers who would be more than happy to hold Vanessa down.
Bikini Rangers Series
Bikini Rangers: The Original Series
To Be Added
Other Appearances
To Be Added
Ranger Keys
To Be Added
MercurySilver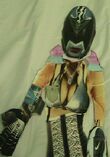 Arsenal
Zords
See Also
Community content is available under
CC-BY-SA
unless otherwise noted.