Stegozord
3
Pilot:
Nikki Benz
Length:
38.4 m
Width:
14.6 m
Height:
(Battle Mode) 21.5 m


(Normal) 19.5 m

Weight:
850 tons
Speed:
250 km/h
Power:
3,000,000
The Stegozord is the sentient personal Zord of the Stego Steele. It possesses the spirit of the Stegosaurus that was given the blue Fusion Energem 65 million years ago, just before Sledgehammer's ship electro-net was disabled when his ship was bombed and the meteors therein caused the dinosaur extinction.
Overview
[
]
Appearances: DF Episodes 2
Zord History
[
]
The Stegozord awakened when Nikki Benz acquired the Blue Fusion Energem. Later on, Nina determined how to combine it with the Tyrannozord and Tricerazord to form the Dino Fusion Megazord: Zyuden Pride Nitrozord.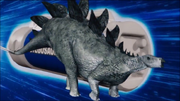 Megazord Configuration
[
]
When integrated into the Zyuden Pride Nitrozord, the Stegozord takes the place of the right arm, of left arm in some formation, the back plate detaching to act as an interchangeable shield/sword.
See Also
[
]