This page lists all the weapons, devices, and vehicles used by Star Gigantic Rangers. Below is the inventory, which also reflects on the Star Gigantic page as well as the team page of the Star Gigantic Rangers.
Morphers
Madame Cellphone Changer
Main article:Star Chrono Changer
Star Chrono Changer is the Star Gigantic Rangers' transformation device.
Multi-Use Devices Edit
Card Storybook
Main article:Card Storybook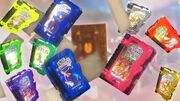 The Card Storybook are the collectible item of the Star Gigantic Rangers to allow them to transform from civilian to Ranger form through the use of the Star Chrono Changer.
Sidearms
Phoenix Saber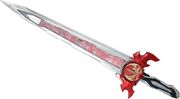 The Phoenix Saber is the weapon of Phoenix Saint.
Celestial Espada
The Celestial Espada is the weapon of Celestial Luna.
Ninja Kenzan
The Ninja Kenzan is the weapon of Ninja Wildd.
Valkyrae Blade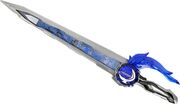 The Valkyrae Blade is the weapon of Valkyrae Ocean.
Glamour Slash
The Glamour Slash is the weapon of Glamour Charm.
Transformation Devices
Multi-Use Devices
Sidearms
Individual Weapons and Team Weapon
Other Devices
See Also