The Sinn Tigerzord is the Shay Sinnsager's Megazord.
Overview
Like Titan Thunderzord, Shay Tiger can assume a humanoid form called Sinn Tigerzord, Kiden Bujin Won Taigā), called "Warrior Mode" for short, with the command of "Warrior Change", much like Titan Thunderzord. In Warrior Mode, Sinn Tigerzord iss armed with the Golden Sword (黄金剣,, Ōgonken) formed from its tail and the 7 Legendary Chi Treasure Pearls in its cockpit which correlate to both the seven days of the week and the Chinese elements. These jewels, when used, make Sinn Tigerzord use powers themed after them;
Moon [月, Getsu] (Monday)
Fire [火, Hi] (Tuesday): Makes Won Tiger shoot fireballs from its chest.
Water [水, Mizu] (Wednesday)
Wood [木, Ki] (Thursday)
Metal [金, Kin] (Friday)
Earth [土, Tsuchi] (Saturday)
Sun [日, Hi] (Sunday)
Shay Tiger
 

Shay Tiger
Pilot:
Shay Sinnsager
Length:
24.5 m
Weight:
150 tons
Speed:
185 km/h
The
Shay Tiger
is the personal Chi Beast of
Shay Sinnsager
. With the creation of the White Power Ranger,
Dana Vespoli
gave Nina the new Shay Tiger to provide the necessary backup against
Jessica Jaymes
' monsters. As the name suggests, he is based off a white tiger. She can summon and control the Zord with her talking saber, Saba.
Queen Sinnzord
The Queen Sinnzord
is a combination of the Sinn Tigerzord, the Lion Montana, the Phoenix Reign, the Pegasus Electra and the Griffin Devine. The Unicorn made up the right leg, the Griffin made up the left leg, the Lion formed shoulder pads and the back, and the Phoenix formed a claw on the Queen Sinnzord's right arm.
This formation first appeared in Inner Strength. During the duel with 3-Head Monsters, the Shay Tigerzord had to retreat after the first encounter. Returning with the other Thunderzords, the White Tigerzord combined with them to form the Queen Sinnzord. Its primary finisher was shooting the Phoenix Reign on her wrist towards the target after igniting it with the Shay Tiger Thunderbolt.
The Queen Sinnzord is extremely powerful, possibly surpassing the Titan Thunderzord as it handily destroyed Nimrod after the latter was defeated.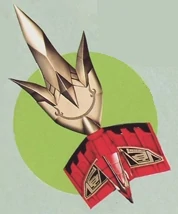 Additional Formations
Dragon Vespoli Riding Shay Tiger
 

Dragon Vespoli Riding Shay Tiger
Combined From:
Season:
Mystic Force
Although not an actual mechancal combination, the Dragon Vespoli was capable of riding on the Shay Tiger's back while the former was in Warrior mode and the latter in Tiger mode. This gave the Dragon Vespoli added mobility while allowing it to fight using its staff.
Notes
The name "Won Tiger" comes from the kanji characters for "Kiba Daioh" arranged backwards. Won is the Chinese reading for "king" (王), while Tai and Ga (which is the Japanese approximation of "Tiger") are alternate readings for the kanji for "big" (大) and "fang" (牙) respectively.
See Also
Community content is available under
CC-BY-SA
unless otherwise noted.