Rebeca Linares is the Blue Mercury, Blue Bikini Ranger of the Bikini Rangers Venice Storm.
Early Life
She was born in San Sebastián, Basque Country, Spain on June 13, 1983, she has lived for many years in Barcelona.[2][3] She chose Rebeca for her stage name because "It's short and very strong" and Linares is her actual last name.
Biography
Linares began appearing in adult movies in 2005 in Spain; her best friend was a friend of Spanish adult star Nacho Vidal.[3][4] Due to the low volume of work and money in Spain, she began working in other parts of Europe such as Berlin and France. She moved to Los Angeles in March 2006. About her move, Linares said "I wanted to stay in one place, living and working every day, and here is the whole business."[4]
In July 2008 she wrapped an appearance in mainstream film Homo Erectus, set for release in theaters in September 2008, alongside fellow adult stars Ron Jeremy and Jacklyn Lick. She also shot a photo spread for Maxim magazine.[5]
In 2009, Spanish television channel Canal+ made a documentary about her life and career in America named Vente a Las Vegas, nena (Come to Las Vegas, baby).
In January 2010, Linares won an AVN Award along with Tori Black and Mark Ashley for their three-way scene from the movie Tori Black Is Pretty Filthy.[6][7]
She now has breast implants.[8]
Awards
Selected filmography
Year
Film
2006
Ass Cleavage 8
Black Cock Addiction 2
Angels of Debauchery 6
2007
Ashlynn and Friends 1
This Butt's 4 U 3
Anal Cream Pie Assault
2008
Women Seeking Women 40
Homo Erectus
Rebeca Linares Raw
Anally Yours Love Rebeca Linares
Apprentass 8
2009
Anal Asspirations 9
Swimsuit Calendar Girls 3: Latin Edition
Cheating Hollywood Wives
2010
The Devil in Miss Jones: The Resurrection
Diesel Dongs 11
References
The text in this article is based on the Wikipedia article "Rebeca Linares" used under the terms of the GNU Free Documentation License or the Creative Commons CC-BY-SA license.
Bikini Rangers Series
Bikini Rangers Venice Storm
To Be Added
Other Appearance
Bikini Rangers Wild Thunder
To Be Added
Ranger Keys
To Be Added
Blue Mercury
Blue Mercury, she has a Dolphin motif. She pilots the DolphinMercury. Blue Ranger's main weapon is Dolphin Sonic Fin.
Arsenal
Sidearms
Zords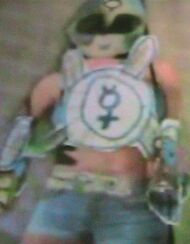 Ultra Mode is the Venice Storm Rangers' power up.
Arsenal
Sidearms
Zords
See also