Jurassic World: Dominion Dominates Fandom Wikis - The Loop
Play Sound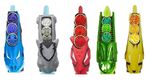 The Madame Medal Keys are the collectible key-like items used by the Madame X Rangers to allow them to transform from civilian to Ranger form through the use of the Madame Cellphone Changer. The All are powered by Madame Medal Keys and have limited uses before they must be recharged. Special keys created by Eva Longoria. These keys appear to be mass-produced, as the key is always absorbed into the Madame Madonna upon its creation and never seen being retrieved.
List of Known Madame Medal Keys
These Madame Medal Keys are used by the Madame X Rangers to unlock their powers and forms.
The Red Madame Medal Key allows Jennifer Lopez to transform into Red Marciano.
The Blue Madame Medal Key allows Emily Ratajkowski to transform into Blue Ferragamo.
The Yellow Madame Medal allows Gigi Gorgeous to transform into Yellow Dior.
The Green Madame Medal Key allows Nicole Scherzinger to transform into Green Chanel.
The White Madame Medal Key allows Lisa Snowdon to transform into White Gabbana.
The Black Madame Medal Key allows Cardi B to transform into Black GG Marmont.
The Super Red Medal Key allows Red Marciano to power-up to her Super Red Mode.
Notes
The Madame Medal Keys are an exclusive addition to the show's adaptation of Zyuohger, as Zyuohger did not have a collectible gimmick, unlike every other season adapted since Go-Onger.

On this note, The Madame Medal Keys are the first transformation trinkets exclusive to Power Rangers.

The Madame Medal Keys are the first key-based transformation.
References