Lone StarNitro
Combined From:
BullTaro
Season:
Ninja Mask
Frist Apperance:
The New Ranger
Last Full Apperance:
End of the Ninja Mask, Part 2
Number of Episode Appearances:
n/a
Length:
87.9m
Width:
42.6m
Height:
45.9m
Weight:
10000 t tons
Speed:
630km/h
The Lone StarNitro is a Olivia Black's giant robot that is formed from the BullTaro and its cart having undergone the Transformation. In this form, Lone StarNitro is able to unleash a torrent of firepower from its shoulder cannons in its Bull Cannon (猛牛砲, Mōgyūhō) attack, as well as armed with a handheld Gatling gun (that it holds like it's a handgun). Lone StarNitro's final attack is the Bull Great Revolving Cannon (猛牛大回転砲, Mōgyū Daikaitenhō), where the Samurai Giant uses the Mojikara for "ferocious" (猛, mō) to fire its Gatling cannon whilest unleasing a burst of Mojikara from the disk loaded on its head. It can also use the enlarged Lone-Bazooka alongside its gattling gun.
BullTaro Zord
Edit

The BullTaro is a massive red ox-themed Origami that drags a black gissha cart behind it. It was the first Origami, created by chance more than three centuries ago by the people of Mount Tsunobue, but due to its excessive power, it was unable to be controlled, and was sealed within the mountain until the Ushi Disk was created in modern times. Once brought back it's senses, Olivia Black takes the Origami for the group.
Mega Lone StarNitro
Edit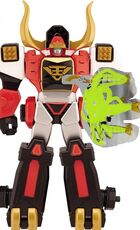 The Mega Lone StarNitro is the combination of BullTaro and Tiyga. In this combination, BullTaro grants Tiyga the ability to fly.

Tiyga is a Penelope Green's green tiger-themed Origami. In the previous war with the Gedoshu, the Tora Origami somehow ended up on the banks of the Sanzu River. It came under the control of the Ayakashi Hitodama, who used it to attack the city.
See Also
Edit
Community content is available under
CC-BY-SA
unless otherwise noted.