Draya Michele is the Gossip Blue, Blue Bikini Ranger in Space Blitz Rangers.
Character History
Early life
Andraya Michele Howard was born in and raised in Reading, Pennsylvania  on January 23, 1985 to a mother of Italian descent and a father of African American heritage.
Career
Howard's first came to the attention of the public as the girlfriend of entertainer Chris Brown. She was part of the freshman cast of the VH1 series Basketball Wives LA in 2011, and in the same year made her first scripted acting debut in TV One's Will to Love opposite Keshia Knight-Pulliam and Marques Houston. She remained as part of the cast of Basketball Wives LA until her departure at the end of the show's fourth season in 2015. She had a supporting role in the 2016 film The Perfect Match. Howard is also the proprietor of two fashion lines: "Mint Swim", launched in 2011, and "Fine as Girls" launched in 2013. In November, 2016 she launched another clothing line called Beige & Coco.[3] Draya will also be the host of the upcoming Vh1 love show "For the Love of Treamaine"
Personal life
She has a lengthy history of affairs and a long list of ex-lovers. Her most popular ex-boyfriend is singer Chris Brown.
Their relationship was a hit and plastered all over the media. She also dated former professional basketball player, DeShawn Stevenson, and rapper Wiz Khalifa.
She started dating her present boyfriend, Orlando Scandrick back in 2013 but they briefly split after an engagement, earlier this year, but the news of Michele's pregnancy brought them back in the relationship and now they are proud parents to their newly born son Jr. Michele gave birth to her son on April 8 this year, and she also has a son named, Keiko whom she has been raising well.
Bikini Rangers
Space Blitz
To Be Added
Gossip Blue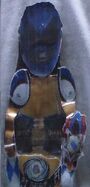 Arsenal
Zords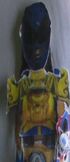 Arsenal
Zords
Ranger Keys
To Be Added
See Also