This article is about a/an set of teams in the Bikini Rangers franchise.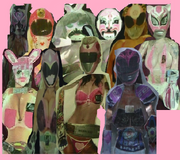 Pink Bikini Ranger is a designation given to one member in most Bikini Rangers teams. The Pink Bikini Ranger is usually a subordinate member of the team and they also receive the most candid weapons. Unlike Yellow Bikini Rangers, in every Bikini Rangers series the Pink Bikini Ranger is female, and their spandex bikini suits almost always have some skirts as well. They also often pilot nitros that have very little pink; they're normally white with a pink trim.
Main Pink Bikini Rangers
Secondary Pink Bikini Rangers
Rangers Associated with Pink
These Rangers have no specific classified color but are commonly associated with Pink.
List of Pink Bikini Rangers
Subcategories
Trending pages
All items (15)