Jurassic World: Dominion Dominates Fandom Wikis - The Loop
Play Sound
| | | | | | | | | | | | | | | | | | | | | |
| --- | --- | --- | --- | --- | --- | --- | --- | --- | --- | --- | --- | --- | --- | --- | --- | --- | --- | --- | --- | --- |
| | | | | | | | | | | | | | | | | | | | | This article is about a/an series entry (the "14th") in the Bikini Rangers franchise. |
Bikini Rangers Star Gigantic (often abbreviated as BRSG) is the fourteenth season of Bikini Rangers. It is the second series to debut during the Fusion Era. Its source is based on Mashin Sentai Kiramager, but will contain some elements from Kamen Rider Saber. It is the rainbow/sabre sword/machine themed series.
Production
The show's name was trademarked on September 5, 2020. The show's logo was unveiled on April 19, 2021 as part of an update to the trademark.
On August 10, 2020 was announced that Univision Commucations, Inc.'s Fusion Media Partners would sell 50% stake to Daniel Belgrave, Jr. for $645.6 billion through will be remain the same.
Once again, Daniel Belgrave, Jr. and returning Nicole Schurz took over as Executive Producers from Greg Austin and Stephen Ortiz and co-executive producers Lisa Martínez replacing by Daniel Belgrave, Jr. at the beginning of the new season.
Plot
In this story, a princess rabbit name Rainbow Star from a land of Rainbow Land comes to Earth in search of people with a "shining spirit" called Starental, a source of outstanding charm and talent. After planet Snow Rainbow is invaded, Rainbow Star seeks refuge on Earth to find individuals and seeks them out to make them into warriors to defend Earth from an evil army called Darkside of the Dynasty. Five adult models are chosen by the Star Chrono Changer with strong "shining spirits" , to become the Star Gigantic Rangers. Using these powers, they fight the evil army bent on robbing people of their hope and radiance.
Characters
Team Members
Main article: Star Gigantic Rangers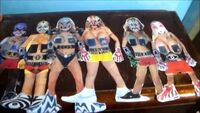 Allies
Civilians
Villains
Darkside of the Dynasty

Leader
Generals
Mistress
Darkside Monsters
Darkside Beasts
Other
Grunts
Arsenal
Main article: Star Gigantic Rangers
Transformation Devices
Multi-Use Devices
Sidearms
Individual Weapons and Team Weapon
Other Devices
Zords
Main article: Zords Star Gigantic Rangers
Zord System
Legend:◆ piloted mecha, ❖ aux mecha, ● other
Auxillary
Alternate Combinations
Alternate Zord System
Auxillary
Alternate Combinations
Episodes
Main article: Episodes (Star Gigantic)
The fourteenth season consisted that aired between October 16, 2021 - present
Songs
Opening theme
Ending theme
DVD Release
Notes
Star Gigantic is the first Bikini Rangers to have the following:

Three Giant Robos to begin with: Star Landzord, Star Skyzord, and Rainbow Starzord.

Valeria Orsini is the first Latinx-American Red Bikini Ranger in Bikini Rangers history.
Because of COVID-19:

Masks were worn more often by background characters than in previous seasons.
Bikini Rangers' production was completely interrupted, stopping after COVID-19 pandemic on March 13, 2020. As a result, its new season was move back to one year.
See Also