This article is about a/an series entry (the "13th") in the Bikini Rangers franchise.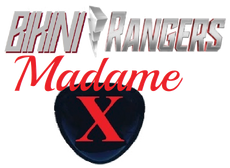 Madame X
Number
13
Number of episodes:
TBD
First episode:
TBA
Last episode:
TBA
Adapted from:
Doubutsu Sentai Zyuohger
Original airing:
TBD
Producer:
TBA
Production Order
previous
Atomic Blitz
Bikini Rangers Madame X is the upcoming thirteenth season of Bikini Rangers. Its Sentai source is based on Doubutsu Sentai Zyuohger, but will contain some elements from Kamen Rider OOO. It is the first series in the New Reign series.
Plot
Jennifer Lopez, Eva Longoria, Gigi Gorgeous, Lisa Ling and Candice Patton who has no place to call home. When coin-based homunculi known as the Master Squad awaken after their 3000-year slumber from Rome, Italy to attack humans and feed off of their desires, Madame Madonna and Eva Longoria gives Five Celebrities a Madame Cellphone Changer and Medal Keys to fight the other Master Squad as Bikini Rangers Madame X team. The Rangers must fight off an evil sentient Master Squad team on taking over the source of all Ranger power, the Madame Grid itself.
Characters
Main article: Madame X Rangers
Team Members
Allies
Civilians
Villains
Master Squad
Spadex (Footsoldiers)
Arsenal
Main article: Madame X Rangers
Transformation Devices
Multi-Use Devices
Sidearms
Individual Weapons and Team Weapon
Other Devices
Zords
Main article: Zords Madame X Rangers
Madame X Zord System
Legend:◆ piloted mecha, ❖ aux mecha, ● other
Episodes
DVD Release
Notes
See Also
Community content is available under
CC-BY-SA
unless otherwise noted.