Jurassic World: Dominion Dominates Fandom Wikis - The Loop
Play Sound
Arthropod Molecube
Number:
!
Pilot:
n/a
Length:
25.0 m
Width:
4.5 m
Height:
9.0 m
Weight:
200 tons
Speed:
380 km/h
Power:
1,500,000
Arthropod Molecube is a violet auxiliary Madame X Cubezord modeled after a mole.
Overview
Instead of a number, Arthropod Molecube is emblazoned with an exclamation point (!). This is to signify that although this is a Madame X Cubezord. Its weapon is a mouth mounted drill that it uses both to attack and to tunnel through the ground.
Appearances: Madame X Episodes 11-15, 17-23, 25, 27-
History
Asleep underground, Arthropod Molecube was awakened when it became entangled in the roots of the Rose-Man's Cannibalbulb. Proceeding to call out to anyone whom could hear, Arthropod is able to reach Emily Ratajkowski due to her super-sensitive hearing. Emerging to destroy the plant before it could devour the Madame X Rangers and the world, Arthropod Molecube allowed itself to be wielded by Madame X Wildzord to defeat the enlarged Rose-Man and then joined the Madame X Rangers as their newest ally, making fast friends with Delza Giraffecube. In the Garden of Vida
Alongside Delza Giraffecube, Arthropod Molecube joined the six primary Madame AnimalCubes in forming Madame X Ultrazord, allowing the Madame X Rangers to overcome and destroy the giant Master Zedd. Madame X Assembly
Arthropod Drill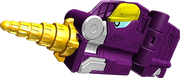 Arthropod Molecube is able to change into the Arthropod Drill which Madame X Wildzord can use in any of its combinations to perform the Arthropod Drill Break finisher, the nature of which changes depending on which combination is using it.
Appearances: Madame X Episodes 11-15, 17-23, 25, 27-
Additional Formations
Madame X Wildzord Drill
Madame X Wildzord 6*2*3 Drill
 

Madame X Wildzord 6*2*3 Drill
Combined From:

Shocker Gorillacube
Mezool Sharkcube
Kazari Lioncube
Arthropod Molecube

Length:
17.0 m
Width:
34.5 m
Height:
45.5 m
Weight:
2,200 tons
The Madame X Wildzord 6*2*3 Drill is the very first combination to equip the Arthropod Drill. In this combination, Madame X Wildzord spins like a top to build up momentum before charging forward to bore through the opponent.
Appearances: Madame X Episodes 11
Madame X Ultrazord
Main article: Madame X Ultrazord
 

Madame X Ultrazord
Combined From:

Uva Elephantcube
Gamel Tigercube
Shocker Gorillacube
Arthropod Molecube

Length:
21.5 m
Width:
39.0 m
Height:
65.0 m
Weight:
4,400 tons
Speed:
550 km/h
Power:
37,000,000
The Madame X Ultrazord is the combined form of the first six Madame AnimalCubes and the first two auxiliary Madame AnimalCubes. Arthropod Molecube forms the right ankle of Madame X Ultrazord.
Appearances: Madame X Episodes 13-15, 17-18
See Also