Acrdia Robo
Gender:
Male
Ally Type:
Robot
Season:
Venice Storm
Hometown:
Gosei World
First Apperance:
The Team Unites
Last Full Apperance:
Storm Before the Calm Part II
Status:
Number of Episode Appearances:
48 (Bikini Rangers Venice Storm)
Acrdia Robo is a fictional character from the universe of the franchise Bikini Rangers.
Venice Storm
Acrdia Robo is a friendly robot that is sent by Master Venice Head to Earth, prior to Neptune Heaven's Tower being destroyed by Dereputa as both an emergency system and means for communication between the Venice World and Earth. While usually sleeping, Acrdia Robo can pinpoint the likely location of Warstar activity. His form is based on a Dice-O arcade machine.
Human Form

In a later episode, Tyler Faith created a machine that to a human, but instead he swapped bodies with both Heidi Montag and Angelina Valentine, before finally returning to his trapped robot body. It reveals he's proficient in Fire Style, despite beginning his Venice training.
Acrdia Robo was eventually restored to human form, and returned to Home with Nicole Oring.
Acrdia RoboNitro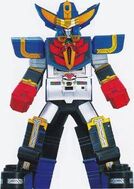 Acrdia Robo can become a giant robot and fight along with the Venice Storm Rangers by transforming into Acrdia RoboNitro. Acrdia RoboNitro's attack include the Datas Punch . Acrdia RoboNitro's final attack is the Datas Dynamic Crash.
Notes
Acrdia Robo is similar to the titular character from the 1977 Japanese tokusatsu series Daitetsujin 17.
See also
Community content is available under
CC-BY-SA
unless otherwise noted.